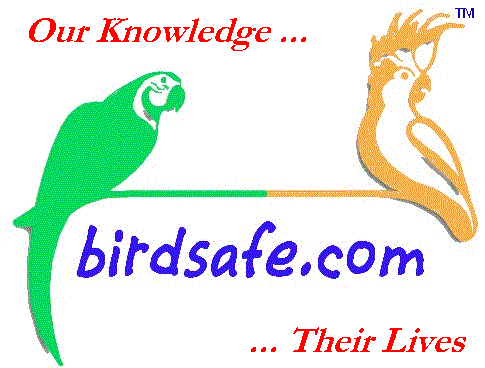 Privacy Statement
PRIVACY STATEMENT:
BIRDSAFE.COM is committed to maintaining the privacy of any information submitted through our website.
OTHER INFORMATION:
BIRDSAFE.COM is owned and operated by BIRDSAFE.COM, INCORPORATED, a corporation in the Commonwealth Virginia. The corporation is managed by an Executive Committee consisting of Debbie and Joe Arbogast.
Debbie and Joe have been avid aviculturalists for over 10 years. Debbie has devoted her life to learning about and caring for birds. Joe is a retired professional fire captain. Together we hope to put our safety and avian experience and expertise to use for the good of all our feathered friends everywhere.
The purpose of Birdsafe.com and Birdsafe.com, Inc. is to expand the knowledge in the bird community about bird health and safety. We make no assertions or guarantees that any item talked about here is 100 percent safe for any bird. Birds are like children and need proper supervision. ANY toy, cage, household item, etc., can hurt or kill a bird in the "wrong" circumstance. If we endorse (or sell) any product we are saying that we have found it to be, either through direct evidence, or by user survey, to be as safe a product in its category as we have found.
The purpose of our online store is to support these functions. Operating the website, doing research, buying and testing items in some cases are functions we need to fund. Profits from our online sales are put back into this work.
Telephone: 540-338-0136